Choose fun, Choose Colour but Always Choose Comfort
January 2021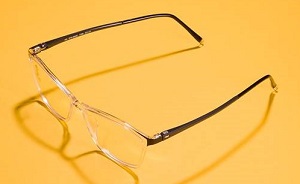 If you're investing in eyewear that reflects your personality you can easily be swayed by the look alone.
But if you want to keep loving that frame long after your first smitten, make sure it loves you too.
'STEPPERS frames are designed with 'fit for life' characteristics so they feel just as good when you take them off at the end of the day as they did when you first put them on,' comments Peter Reeve, Managing Director STEPPER UK Ltd.
The STEPPERS STS-30050 has 'fit for life' characteristics in abundance starting with the material it's made of – TX5.
This innovative plastic is lighter than traditional acetate, putting less pressure onto the touch points of the face, so often the source of discomfort. For a design of this type, a weight of just 6.6g is commendable.
The front is moulded in a single process so the anatomical curve is set and will not change over time. So, the fit you first experience will continue throughout its lifetime.
An integral bridge on the STEPPERS STS-30050 is the result of decades of experience in creating best-fit nose shapes began by the founder Hans Stepper, himself a German Master Optician.
And for those with sensitive skin, you can relax, TX5 is also hypoallergenic so wearers won't be troubled by skin reactions too often associated with long term frame wear.
But these are all the things you can't see. So much of the appeal of a STEPPERS frame is its design and colouring. The STS-30050 has an easy to wear contemporary shape that can be fine-tuned to your personal style through an array of colour options; Crystal, Hot Pink, Electric Blue and Jade.
'When you look good you feel good and this STEPPERS ensures this feel-good effect is long lasting,' concludes Peter.