BLACKFIN – New SS 2021 Optical Collection
Design, light weight and innovation:
Blackfin introduces the new Spring/Summer 2021 optical collection in which titanium is interpreted in the hallmark style that distinguishes each of the brand's lines.


Colour and innovative workmanship take modern-design frames to the next level. Accessories that reinvent the concept of eyewear through ongoing experimentation while staying true to the brand's identity.
Trendy frames originate in the Blackfin One line, re-imagined with an eye to the brand's DNA.

West Derby (above) is a men's style with a square shape and slender profiles, high bridge and straight brow-band, whereas the more generous unisex St. Denis (right) style has eye-catching round rims.
The latter's bold personality is emphasized by the solid white or olive drab colors or vibrant two-tone options.

Instead, unmistakably feminine Danzica (left) radiates colour, the brand's style signature, adding personality to the frame's hexagonal rims.
Pastel shades contrast elegantly with metallic colors in an interplay of gentle contradistinctions.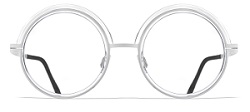 From the Blackfin Aura line, the elegance of cellulose acetate sets apart Saint Lazar.
A delicate, feminine frame with lavish, perfectly round acetate rims that, anchored to the beta titanium structure, create a sophisticated contrast between the two materials for glamour-tech flair.

In the Blackfin Razor line, known for its slim, ultra-light frames made with titanium sheet just 1 mm thick and patented one-piece hinge, Blackfin introduces Fresno (left) and Claire.
The former is a roomy, square men's style with double bridge and a clear vintage vibe emphasized by the three-dimensionally sculpted nosepiece.

Claire right and also on home page, a women's style, toys with the rims that morph sinuously from round to a more angular shape near the top rim. Here, too, the colors lend unmistakable stylistic integrity to the frame.