Blackfin guest speaker at universities
CEO Nicola Del Din lectures at Bocconi University in Milan and British Columbia University in Vancouver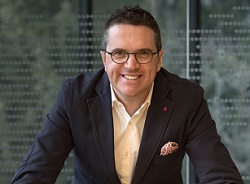 The story of Blackfin reaches the desks of two prestigious universities. Nicola Del Din, the company CEO, recently delivered two lectures, one at Bocconi University in Milan, the other at British Columbia University in Vancouver, Canada.
A remote connection allowed audiences of international students to hear the story of a leading example of Italian manufacturing excellence and ethics in the international eyewear market, directly from its CEO.
Nicola Del Din's lecture at Bocconi was part of a business management course dedicated to Italian product manufacturers, while the lecture on Blackfin delivered to Canadian university students was part of a series of meetings on Italian creativity, and its global recognition as the ultimate expression of style and culture in the fields of architecture, design and fashion.
"I am truly proud to have been asked to tell the story of our company as an example of authentic made in Italy excellence" – stated Nicola Del Din – "and help these students, from different countries, and therefore from different cultures, understand that even a company from a small mountain town can be on the road to success if it has values and objectives that befit its identity. That's what Blackfin did".