A look behind the curtain to see the Nirvan Javan show from a different angle
The philosophy of the show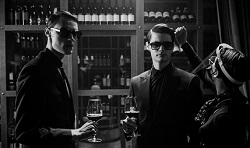 Exclusive guests from all over the world are coming together to witness a show, an inspiring experience of cultures, that is #SEETHEWORLD – THE SHOW, NIRVAN JAVAN's latest campaign. It is a reunion of cosmopolitans, an event of openness, passion that celebrates distant cultures. But how did this show come together; what ideas lead to the images seen in the campaign? NIRVAN JAVAN invites you to look behind the curtain.
Putting it to scene
Nine charismatic characters were put to scene in spring of 2021 in an exclusive restaurant in Zurich, Switzerland. For two days and nights NIRVAN JAVAN worked tirelessly to bring the vision of the cultural experience to live.
Make-up, clothing and the way the camera captured each of the actor's movements were carefully composed under the creative supervision of the designer Nirvan Javan himself. Every little detail reflects the famous destinations and cultures the characters are supposed to represent.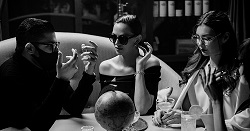 Tokyo for example can be seen wearing a fresh and modern two-piece suit, combined with a rather traditional hair knot, reminding the viewer of Japan's interplay of modernity and sense of tradition. Rome's famous story of its founding also receives a contemporary interpretation. Instead of the wolf's milk, Romulus and Remus drink wine and sneak around each other. Their distrust is made visible by a mysterious dance.
It's these cultural subtleties, the diverse manifestations of extraordinary cultures that stand at the center of #SEETHEWORLD – THE SHOW. This coming together of cosmopolites allows for something miraculous to happen, a new style of elegance.
The show is about to begin

Now, NIRVAN JAVAN invites you, to step out from the curtain once more and to experience the world at its finest. Take another look at #SEETHEWORLD – THE SHOW, this time, with a new perspective.
This time with the eyes of a true cosmopolitan: