New icons line models by Hapter,
The avant-garde designed in the retro style of the mountains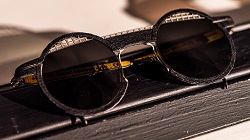 To the most demanding mountaineers, those who love to explore by wandering every day in metropolitan environments. The Icons line by HAPTER is dedicated to them, the collection of optical frames and sunglasses that takes inspiration from the retro style of the mountain look. An intuition suspended between avant-garde and courage, which tells the origins of the brand, born at the foothills of the Dolomites from an intuition of Eric Balzan, capable of interpreting iconic styles and enriching them with cultural significance, with a strong evocative power.
The Icons Line models express the avant-garde and technological soul that unites all the HAPTER lines. Here, in particular, the design translates into small and geometric shapes, with sharp and angular cuts, alternating with sinuous and round curved lines.
As in all HAPTER collections, the company's experimental research is also revealed in the choice of materials for the new Icons models, with cold-surgical medical steel that is combined with warm-artisanal rubber, through a special production process. The chromatic choice that recalls the natural world is original: Lichen Green, Leaf Orange, Carbon Black, Musk Green, Sky Blue, Vintage Gray, Persian Red, Phoenician Purple. All Icons glasses are equipped with the patented 8-GON hinge, a stainless steel cam with a particular geometric shape: a combination of an octagon and a square which is embraced and locked by the metal teeth on the temple. Furthermore, comfort is guaranteed by the exclusive semi-curved temple tips, inspired by retro sports eyewear, fully adjustable.
Like every HAPTER creation, Icons Line is created in Hapterìa, the brand's exclusive laboratory that combines creative manual work and functional technology. Here glasses are the result of the talent of a new figure: the post-industrial craftsman, who works in the atelier alongside the designer, with the aim of creating unique pieces together, the result of a process of micro-craftsmanship that makes each creation extremely precious and exclusive.