NIRVAN JAVAN launches exclusive Sunglass Series: SHADES OF ROME
As part of the current annual campaign #SEETHEWORLD – THE SHOW and the associated celebration of worldly facets, NIRVAN JAVAN launches the premium sunglasses series SHADES OF ROME. Inspired by the historical, cultural and architectural impact of the Italian capital, the brand presents seven expressive acetate models.
To celebrate the avant-garde elegance of the eternal city two limited-edition sunglasses complete the series.
Cultural diversity with SHADES OF ROME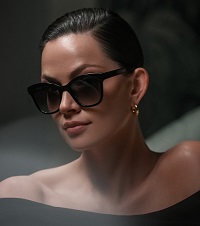 True to the brands philosophy #SEETHEWORLD, NIRVAN JAVAN's current sunglasses series SHADES OF ROME once again focuses on cultural diversity – celebrating further cosmopolitan facets of #SEETHEWORLD – THE SHOW. This time, the stylistic journey leads to the Italian city of Rome: with its almost 3000-year-old art history, architecture and culture, the metropolis served as a great source of inspiration for the current premium line SHADES OF ROME. In a total of seven different models, the designer presents his personal interpretation of Rome and combines the diverse accents of the metropolis in a distinct design language.
Expressive elegance combined with simplistic modernity
NIRVAN JAVAN pays tribute to the cosmopolitan metropolis of Rome by combining fine, shiny acetate with an elegant, simple design. SHADES OF ROME are characterised by timelessly modern yet graceful shapes, anti-reflective lenses and first-class craftsmanship – reflecting NIRVAN JAVAN's high standards of design and quality. Four expressive, classically held colour compositions create a direct association with the magnificent Italian metropolis: BLACK, DARK HAVANA, DARK RED and TRANSPARENT. The seven different unisex models represent an elegant expressiveness and lend every wearer the unmistakable flair of Rome.
ROMULUS & REMUS: Two limited-edition sunglasses with a distinctive character
Inspired by the historically avant-garde elegance of Rome, NIRVAN JAVAN created two limited-edition sunglasses within the SHADES OF ROME collection: ROMULUS & REMUS. With a distinctive shape, high-quality acetate and intense dark colours, the exclusive designs refer to the founding myth of Rome and its epic founder-brothers.
The cubic acetate frame in BLACK (Romulus) and DARK HAVANNA (Remus) gifts these two sunglasses with a new kind of character and thus complete the SHADES OF ROME collection. ROMULUS & REMUS are limited to 100 numbered pieces each – available in selected partner opticians on request.