Hypochlorous Eyelid Spray launched in The Eye Doctor eyecare range
The Body Doctor Ltd has officially launched The Eye Doctor Hypochlorous Eyelid Spray for dry eye disease, meibomian gland dysfunction, blepharitis, styles, itchy eyes and inflammation.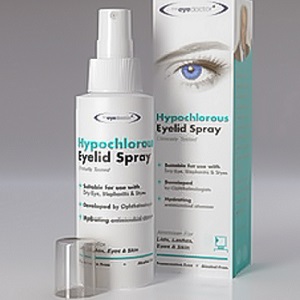 The spray's ph-balanced solution has been clinically tested and is free from preservatives and alcohol, making it suitable for sensitive eyes and skin.
Developed by ophthalmologists with advanced antimicrobial technology, the atomiser was successfully previewed at 100% Optical last month.
The Body Doctor's Sales and Marketing Director, Sam Wymer, said at the London show: "We are delighted as our preview at 100% Optical has proved popular, not surprising really as the new Eye Doctor Hypochlorous Eyelid Spray provides professional levels of ocular and periocular hygiene, while offering practitioners great value for money."
Explaining the background to the launch, Sam added: "The Body Doctor specialises in anti-bacterial products and aims to offer the best. This hypochlorous spray was developed with leading ophthalmologists to reduce bacteria and fits in perfectly with our company ethos. It also nicely fills a gap in our Eye Doctor portfolio of compresses, lid wipes and eye drops."
The new 100ml Hypochlorous Eyelid Spray has a competitive price point, with a recommended retail price of £10.