Neil Retallic joins Specsavers as Head of Professional Development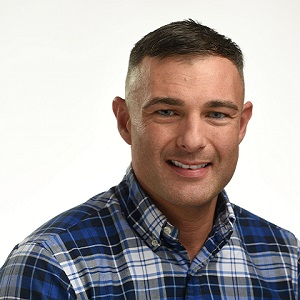 NEIL Retallic has been appointed Specsavers' Head of Professional Development to help its clinicians be the best they can to support its vision of changing lives through better sight and hearing.
He brings more than two decades of wide-ranging experience in the optical sector to the new role. That includes working as an optometrist in practice and several years in academia as an Optometry Teaching Fellow and Joint Contact Lens Clinic Lead at the University of Manchester and as a Visiting Lecturer at Aston University.
Mr Retallic has held professional services roles at Vision Express, CooperVision and most recently was Global Professional Services Manager at Menicon Ltd.
A former Council Member of the College of Optometrists, he supports the next generation as a College examiner and assessor, alongside being a member of the General Optical Council's Education and Standards committee. He currently serves as President of the British Contact Lens Association.
'Neil is a well-known and respected member of our sector, and his appointment is all about making our clinicians the best they can be to support our vision of changing lives through better sight and hearing,' says Specsavers Director of Professional Development Grant Duncan, who Mr Retallic will report into.
'Neil will further enhance our reputation as a leading provider of CPD and will be instrumental in our plans to support our clinicians to achieve higher qualifications as well as in the delivery of our "Beyond the Graduate" programme of learning and development.'
He adds: 'We're all incredibly excited to have Neil join our talented Professional Development team.'
Mr Retallic says he joined Specsavers because of the energy and passion of the team. 'Specsavers's readiness to strive as the market leader to provide the highest professional levels, and to be a voice for the profession and customers also attracted me,' he adds.
'I love to be involved in educational development and help other people. To be able to do this at Specsavers is fantastic, with its already amazing community, support, data, and opportunities. I'm looking forward to working with colleagues to build on this strong base for the benefit of colleagues, patients, and the wider sector.'
Mr Duncan adds: 'It is great news to welcome Neil to Specsavers as we continue to be on the look-out for new colleagues to join us, including in our clinical engagement team, as we deliver on our vision to change lives.'
Image Rob Lacey Photographer