Kit launched to encourage good eyecare and lid hygiene in children

The Body Doctor Ltd has launched a new range of children's eye care products which are available to buy individually or as a healthy eye kit in a reusable storage bag.
The manufacturer has developed an antibacterial warm eye compress for children which is suitable for dry eye disease, meibomian gland dysfunction (MGD), blepharitis and styes. Soothing biodegradable eyelid wipes have also been created to help keep children's lids and lashes clean.
The Eye Doctor Junior Warm Eye Compress is aimed at children aged three to 12 and features the company's patented antibacterial Sterileyes protection. The class 1 medical device is microwave safe and can be reused over 200 times. It has an adjustable comfort strap, a storage bag and comes with the new Eye Doctor Junior Biodegradable Eyelid Wipes.
The Body Doctor's Head of Professional Services, Andrew Price, said: "Children have always been more susceptible to styes, now MGD is affecting a younger age range and an adult sized hot compress is not suitable for a child's face but this new compress is specifically designed for children's smaller facial features."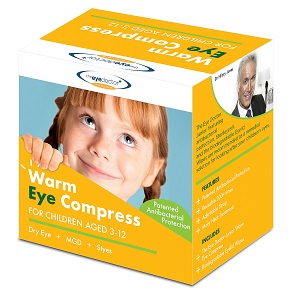 The Eye Doctor Junior Biodegradable Eyelid Wipes are also for the symptoms of dry eye disease, MGD, blepharitis and styes in children aged three to 12. The rinse-free sterile formula contains no alcohol or detergent, making the wipes suitable for sensitive eyes.
The new Junior range is supported by TV's Dr Hilary Jones and is designed to be used as a preventative measure, or as a treatment for unwelcome symptoms.
The Body Doctor's Managing Director, Sue Grant, explained: "As it currently stands, we are not aware of any other products on the market that are specifically designed to soothe children's dry, tired eyes, and because innovation is at the forefront of everything we do, it felt only right for us to optimise the eye health of children, as well as adults.
"Our new 'Healthy Eyes Kit' is more of a preventative measure. We want to encourage parents to get their children to look after their eyes, just like they look after their teeth. We believe that children should improve their daily eyelid hygiene to prevent execssive tear evaporation and the onset of dry eye disease, especially if their screen time is high.
"Just as teaching children to brush their teeth from a young age encourages good oral hygiene throughout their lives, we hope our new Junior range will encourage the habit of good eyelid hygiene, building a positive habit for their future eye health," Sue concluded.