INVU – Bold and Beautiful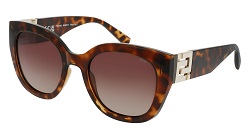 Oversized sunglasses first came into style in the 60s when celebrities such as Jackie Kennedy and Audrey Hepburn wore them to hide from the paparazzi.
The INVU designers took inspiration from this golden age to craft a new bold edition.
The oversized, but still truly wearable front design is combined with a gutsy 20mm wide temple embellished with a glamorous golden logo, reflecting the latest trend in fashion jewelry.
Perfectly matching ultra polarized lenses in gradient chocolate, green and coffee colors complement the new release.
The new bold and beautiful edition offers exceptional value for retailers and consumers around the globe.