"Improving The Fit" is just one part of Stepper's Success
As part of the ambition to create eyewear to fit the world, STEPPER UK has just launched a collection of Asian Fit frames.


"Designed as 'standalone' pieces, these frames are not adaptions from existing STEPPER EYEWEAR models.
They are unique eyewear solutions for spectacle wearers with Asian facial anatomy," comments Peter Reeve, Managing Director, STEPPER (UK) Ltd.  "As a result, there is no compromise in fit and comfort for the wearer, just an optimal solution for their visual correction."
Eleven models, in male and female styles with both TX5 and Titanium materials, enhance the fitting choice for the brand with design variety to meet the personal style of the wearer.
These new additions reflect STEPPER EYEWEAR's recognition of significant European Fit, Asian Fit and African Fit differences and needs as part of their 'World Fit' concept.
World Fit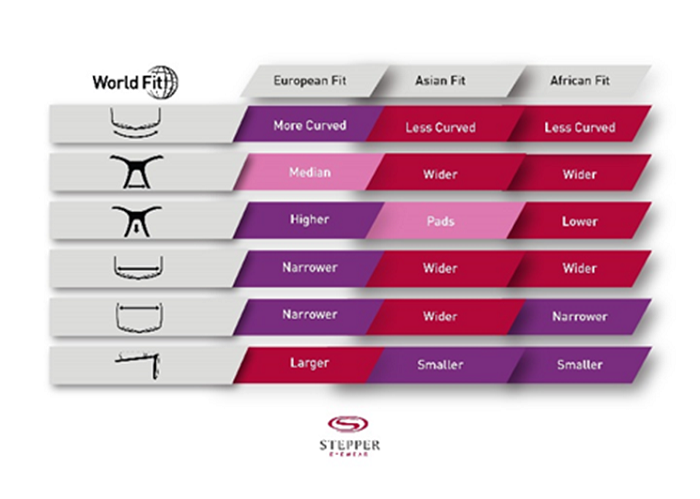 Seen side-by side (see table above) the significant variations become clear and underline the importance of this innovative approach. As part of the company's commitment to delivering eyewear comfort for all, African Fit models will be made available to the UK in the coming months.
Identifying six key measurement differentiators allows the brand to create designs that fall into the three distinct fits.
These measurements are as follows:
Face Form Angle/Wrap Angle
Angle between the plane of the spectacle front and the right plane of the lens shape, or of the left plane of the lens shape.
Vertical distance from the centre line of the frame to the midpoint of the lower edge of the bridge.
Distance Between Rims (DBR)
Of a regular bridge this is the horizontal distance between the nasal surfaces of the rims, measured at a stated level below the midpoint of the lower edge of the bridge. Of a pad bridge this is measured along the centre line.
Distance between inner surface of the sides measured at 25mm behind the back plane of the front.
Distance between the inner surface of the sides measured at the ear point.
Vertical angle between a normal to the back plane of the front and the line of the side when opened.