High Praise for MyEyes App for blind and partially sighted

A pioneering new app that has helped blind and partially sighted people to better access the exhibits at the Dundee V&A design museum has won praise from the users who trialled it there last month. Today  they are returning for another visit.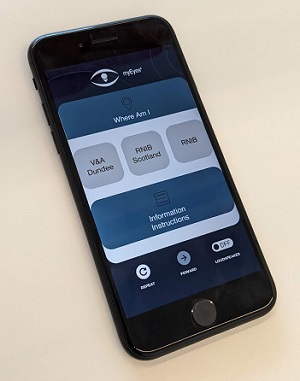 My Eyes, designed by Portuguese company IKi Technology, creates 'blind compliant zones' in which a mobile phone talks to a user when it encounters a GPS co-ordinate or a strategically placed 'beacon' which speaks texts previously recorded in the system. These texts can describe an exhibit while also giving directions on how to go from one point to another.
Jimmy Milhench from Edinburgh, who first tried it out in March, said he thought the system made the museum more accessible. "It was good to be in a museum receiving information without asking anybody any questions, and it would be good if we could have it in more places," he said. "I'm looking forward to going back again see the improvements after the comments we made on our first visit."
Fraser Fleming (38) is registered blind due to diabetic retinopathy and is a guide-dog user. He is co-founder of an award-winning small charity called TripleTapTech that helps others with a visual impairment to access and try out new technology.
"We trialed the My Eyes app in the Dundee V&A last month and were able to successfully navigate safely from the train station to the front entrance of the museum," Fraser said. "Once there, we were then able to follow the audio guides provided by the app to get very informative descriptions of the exhibits.
"I can see this app having a great potential to help people with a visual impairment, not just in tourism, but also in their day to day life. I found this to be very user-friendly, with little input required from the person, and this simplicity make it a very accessible.
"I think that now, after the long period of lockdown and restrictions on people's freedoms, it is very important to be encouraging and supporting people to go out and visit new and exciting locations or familiar places. I can't wait to see how the developers bring this app to fruition in the future and I wish them great success with it."
James Adams, director of national sight loss charity RNIB Scotland which helped organise the visits, said: "New technology has immense potential to make life easier and better for people who are blind or partially sighted. It's really encouraging, too, that V&A Dundee is keen help to make its exhibits as accessible as possible to everyone in the community. We hope this app will open up a range of venues to people with sight loss elsewhere."
Miguel Matias, chief executive of Self Energy Ltd, the UK agent for IKi Technology, said: "To promote the inclusion of visually impaired people is part of our strategy to impact positively on UN sustainability goals, and prepare our cities to became Smart Cities in how they interact and include everyone."