Head of Optometry Development appointed at Specsavers
SPECSAVERS has appointed a new Head of Optometry Development focused on supporting the next generation of optometrists.
Judy Lea, who brings more than three decades of optometry experience and expertise, now heads up Specsavers' industry-leading pre-registration programme which welcomes hundreds of graduates annually.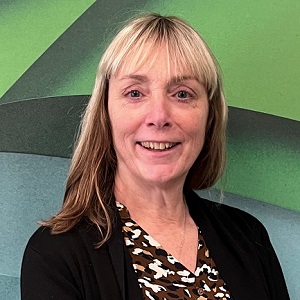 'Optometry has been very good to me,' she says. 'I also enjoy training and development and am keen to put something back into optometry. So, I want to help the next generation of optometrists by supporting them to work better with patients and colleagues to become better clinicians.
'Our pre-registration programme goes beyond just passing each stage of the pre-registration process – it provides the groundwork to have a successful career as an optometrist. When we're writing the course materials, we're not thinking about a tick list to pass. Being a professional is being able to deal with that one patient in the chair who will never look like the textbook tells you for example.'
For her, developing pre-registration colleagues' thinking is critical. 'I always talk to them at the start of a pre-registration course, saying: "It's a bit like you've come out of university with a box full of jigsaw pieces, you've got 1,000 pieces. You've got all that knowledge and all that theory. You've now got to work out how it all fits together and for each individual patient". That's what we get them doing on the courses.'
The Specsavers caring environment is also important to her. 'We provide an "arm around the shoulder" environment for our pre-registration optometrists with supportive colleagues, great courses, and material alongside many online learning resources. We also provide one-to-one support with struggling trainees.'
Another part of her role includes liaising with universities as to what employer requirements are when it comes to graduates in support of students and development of courses.
Authoring continuing professional development materials, presenting, and assessing are other parts of her job. 'This is particularly important with the current changes which are slowly developing and happening as a result of the education strategic review,' she says.
She is also tasked with professional development beyond the pre-registration period. At Specsavers, the 'Beyond the Graduate' programme is being developed to support newly qualified optometrists in their early years of their career. As a part of this programme, there is a suite of materials to help support them taking their first steps as qualified professionals and moving towards further professional qualifications, such as level 2 WOPEC, help with professional certificates leading onto leadership and management programmes.
As well as her role at Specsavers, she is a College of Optometrists' assessor and examiner having started her career in 1987 as an optometrist and then becoming a practice manager. While her family was young, she worked part-time for both Specsavers and independent practices, looking out for further development opportunities which resulted in her becoming an optometry partner at Specsavers. She also worked at Royal Stoke University hospital part time as a specialist optometrist, before moving towards more professional support and professional and clinical training roles.