Eye Doctor Tea Tree Lid Wipes go Green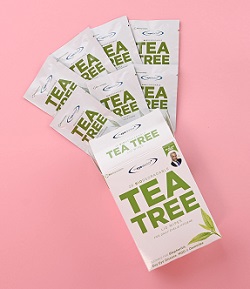 The Body Doctor company has made its Eye Doctor Tea Tree Lid Wipes fully biodegradable, believing this to be a product first for the optical industry.
The change to biodegradable material for the wipes, with their packaging being recyclable, is part of a growing mission for the company to be more environmentally friendly.
The Body Doctor's Managing Director, Sue Grant, explained: "As a company, we recognise that being sustainable is becoming a necessity due to ever-changing perceptions around the world and we are starting to bridge the gap between 'knowing' and 'doing,' by embracing sustainable products, packaging and practises.
"At significant financial cost, we have further invested in reducing our environmental impact by also making our regular Eye Doctor Lid Wipes biodegradable. Our Tea Tree Lid Wipes and our Lid Wipes are plastic-free and made from viscose fibres, so when in soil or compost, or fresh or marine water, they will fully convert back to nature and do not require recycling."
Highlighting the background to the move, Sue added: "We conduct regular market research about what our customers want, which ultimately helps us evolve and advance with products that there is a clear demand for.
"We recently conducted a customer survey and it confirms that sustainability is very important for our shoppers, so much so that 80% of them would be willing to pay more for environmentally friendly products and packaging. This was also a big influencer when making this shift.
"The Body Doctor's objective is to become more environmentally friendly therefore we are absorbing the costs involved without passing any price increases to both our customers and patients alike. Our aim is to continue this shift towards being more eco-friendly."
The Body Doctor's Head of Professional Services, Andrew Price, has also noticed a significant increase in patients questioning how environmentally friendly products are.
"As clinicians we are rightly focused on the clinical benefit to the user, however, a third factor has now entered the consumer evaluation of how they spend their money; benefit, cost and now how eco-friendly is the production and disposal of a product," he said, adding: "I am happy that the Eye Doctor Lid Wipes score high marks on all three evaluations."
The Eye Doctor range is distributed to the optical profession by Positive Impact.