Essilor enhances clarity of lenses with new coating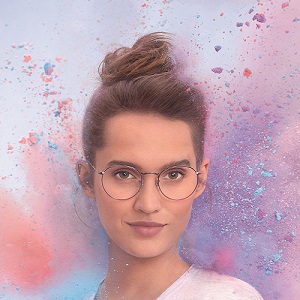 Essilor Ltd has introduced a new generation premium anti-reflective coating, Crizal Sapphire HR, for transparency that promises to stand the test of time.
The coating outperforms previous generations offering up to 70 per cent more scratch-resistance1 and up to 20 per cent improvement in thermal resistance1. These two improvements are thanks to the new Crizal High Resistance technology, from which Crizal Sapphire HR takes its name.
Tim Precious, managing director at Essilor Ltd said: "This is a considerable development for the coating industry and will provide a powerful armour for spectacle wearers to tackle concerns around annoying reflections, irreversible scratches and smudges that make the lenses hard to clean.
"It replaces Crizal Sapphire UV with superior protection in terms of scratch and thermal resistance, after undergoing rigorous Crizal Lifeproof multi-tests to become our highest performing Crizal coating to date.
"After 12 months of wear, Crizal Sapphire HR performed significantly better in terms of scratch resistance than the previous generation2.
"ECPs can be confident about offering a solution to shield patients' eyes and their lenses against obstructions for a long-lasting transparency, with the promise of durability, ease of care, and UV protection."
Crizal technologies
Essilor's R&D researchers are constantly focusing their attention on consumers' evolving needs and surroundings. For each innovation, they are spending countless hours to explore new possibilities, always striving to offer better results without compromising on the level of performance of a Crizal coating.
As a result, to develop this innovative anti-reflective coating, they have successfully brought out the best of what is currently possible with Crizal technologies.
Crizal coatings are made of nanoscopic layers which are up to 50 times thinner than a strand of hair.
A High Surface Density process offers an extra top layer for smudge resistance and a superior ability to repel dirt and water.
360 Multi-angular technology quantifies the overall anti-reflective efficiency (0°-45°) to reduce reflections whatever the light direction from the front and back sides of the lens.
High Resistance Technology offers a combination of four specific oxides known for their resistance against dust, scratches, and temperature. One of the oxides is taken from the aerospace industry for its high thermal resistance.
Crizal Lifeproof multi-tests
The coating underwent vigorous Lifeproof multi-tests including:
Anti-reflective efficiency oven test involving gradual heating to evaluate the thermal resistance of the lens.
Multi-angular reflection test to measure the lens' reflection in different incidence angles of light.
Sensory analysis to assess the perception of the lens transparency in a controlled environment by a panel of expert consumers.
Abrasion resistance test consisting of 300 shakes cycle with abrasive materials to evaluate the optical impact.
Durability wearer test for 18 months to monitor real-life usage.
Crizal Sapphire HR is available to the UK and Irish optical market from 4th January 2022. A wide range of support materials such as leaflets, posters, and window stickers are available to order directly from Essilor.
Visit https://ecp.essilor.co.uk/products/lenses/coatings/crizal/crizal-sapphire-hr