ESSILOR provide digital support for Eyezen brand
Essilor Ltd has created an exciting digital media campaign for Eyezen lenses with the potential to be seen 17.5 million times this month.
The digital assets and social media posts encourage consumers to 'update their vision' by switching to Eyezen and are available for ECPs to download and use to target 18 to 40-year-olds with an interest in smart technologies, digital trends, gaming, music, fashion, sport, and food.
Using creative situational messages such as tired eyes, and phone usage that resonate with the target audience, Eyezen lenses are positioned as the perfect solution for those who enjoy a digital lifestyle.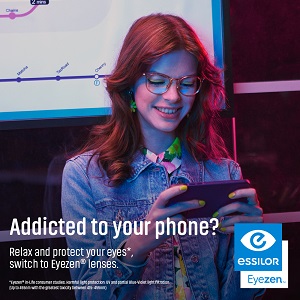 The ads will also be pushed out by Essilor, appearing throughout February on Facebook, Instagram, and Google Ads with a call to action to visit https://global.essilor.com/uk/
To learn more about the lenses and find their local Essilor Expert to book an eye test.
Alan Pitcher, commercial director at Essilor Ltd said: "We are strongly encouraging practices to get involved by downloading the latest digital assets and social media posts to use over the coming weeks.
"This will help drive awareness of the lens to update vision and defend against digital eye strain. It will also lead to increased footfall in-store by encouraging consumers to seek help and make the switch."
POS materials, large scale window graphics and a direct mail leaflet can also be purchased with loyalty points.
Visit https://ecp.essilor-pro.com/gb