David Probert to take on CEO role at University College London Hospitals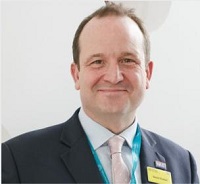 David Probert, chief executive at Moorfields Eye Hospital NHS Foundation Trust, has announced today that he is to leave his role to take up a new position as chief executive at University College London Hospitals (UCLH) in the late summer.
During his almost five year tenure at Moorfields, David has been instrumental in leading a number of important initiatives for the trust, including laying the foundations for Oriel, a pioneering new eye-care research, education and treatment centre in partnership University College London (UCL), driving forward digital innovation and securing a strong financial position for the organisation.
Announcing his decision, David Probert, said: "I have been exceptionally proud and honoured to be part of such a world-leading institution like Moorfields.
"I am immensely grateful to everyone I have worked with at Moorfields, your dedication and commitment to delivering the best possible eye care to our patients has been humbling.
"It has been a great privilege to serve as your chief executive and a personal pleasure to work alongside you all. However, as we begin to rebuild our services following the pandemic and look to the future as we begin to develop a new five-year strategy, I feel that now is the right time for me to move on and to entrust the legacy of Moorfields to a new chief executive."
Commenting on the announcement, Tessa Green, chairman at Moorfields, added: "David has spent his entire career serving the NHS. Throughout his time at Moorfields, he has demonstrated a clear commitment and passion to ensuring our patients get access to the very best eye-care they deserve both now and, thanks to Oriel our plans for world-class, modern treatment facility, for the future too.
"Under his stewardship, Moorfields has continued to maintain a position of real strength both financially and in terms of our clinical reputation for delivering cutting edge eye-care. David has also been instrumental in ensuring Moorfields continues to drive forward outstanding research through our partnership with the Institute of Ophthalmology at UCL, as well as building a strong executive leadership team. These are significant achievements and I am in no doubt that his experience and knowledge will serve both patients and staff at UCLH well.
"David will be missed by all of us here at Moorfields and we wish him well for the future. The work to appoint his successor will begin immediately."