Copenhagen Specs successfully kicks off optics and eyewear events for 2022.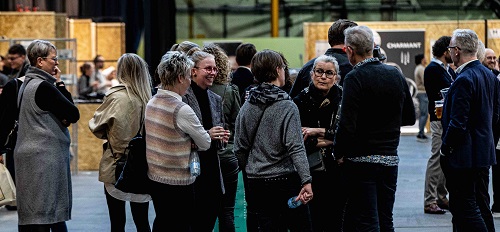 Forced to cancel the 2020 edition the day before its opening, Copenhagen Specs re-opened its doors on March 5th, to rekindle the independent eyewear business in Northern Europe. Its usual setting "Lokomotivværkstedet" – the centennial train repair building – hosted 53 exhibitors showcasing more than 85 innovative brands.
608 unique visitors from 16 different countries (Denmark, Sweden, Norway, Faroe Island, Iceland, Greenland, Finland, Poland, France, Germany, Italy, UK, Belgium, The Netherlands, Spain, and Switzerland), enjoyed the return of real interactions and have fully achieved their purchases goals, confirming Copenhagen Specs as the Scandinavian business hub.
CEO/Founder of Copenhagen Specs, Morten Gammelmark says: "It was such a joy finally being able to welcome the independent eyewear business to a Copenhagen Specs again after the period with cancelled tradeshows due to covid. But we could not succeed without the great support from the exhibitors and visitors, who stepped up and supported us. We are very grateful for that!"
Announced 2 years ago, the new Specs event is now on track. Independent eyewear will blossom in May in Spain. Barcelona Specs, May 7-8, 2022, will welcome eyewear lovers in a very cosy atmosphere at Fira Barcelona Montjuic in Barcelona city center.
It is a great opportunity for all southern Europe opticians to discover and buy the best of the best on a sunny weekend.
Images by Uffe Karlsson.