ACLM Contact Lens Year Book 2022 Now Available
The 2022 edition of the product manual of the Association of Contact Lens Manufacturers has now been published.  It lists technical details for all the contact lenses, solutions and materials produced by ACLM member companies, and covers the overwhelming bulk of products available in the UK.  It is an essential product guide and handy reference for contact lens practitioners, and is supported by an online version.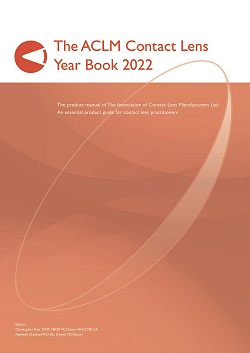 The ACLM website www.aclm.org.uk is aimed at encouraging new wearers, supporting existing ones and with a restricted area for eye care practitioners.  The latest Year Book can be ordered from the website, and with a range of payment options, and purchasers also get free access to the tables in the Year Book Online (YBOL).
These are available in easily searchable form and which can be viewed on the full range of electronic devices.  Access to these tables is free for up to 12 months for all those who have purchased the latest hard copy Year Book, as well as qualifying students at the various training establishments.
Practitioners are encouraged to offer their patients the latest and most appropriate products available by obtaining a copy of the Year Book every year.  Probably the best way to subscribe is by Direct Debit which secures a 35% discount every year, and also guarantees being among the first to receive the latest issue, automatically, as soon as it is published mid-year.  The order form can be downloaded from the Home Page of the ACLM website at www.aclm.org.uk.
Purchasers are always offered the latest version of the Year Book.  The Home Page of the ACLM's website indicates which is the current version, has a link to a downloadable order form which shows all the purchase options, and is the gateway to the Year Book Online (YBOL).