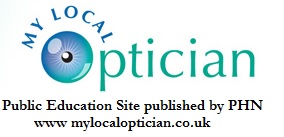 My Local Optician
www.mylocaloptician.co.uk is an educational and promotional website managed by Primary Health Net Ltd and run as a social business enterprise for the benefit of better eyecare and eyewear for the public and improved take up of service of the optical professions and industry.
Mylocaloptician.co.uk relies on the advertising proceeds from industry and the professions in order to refresh interesting and educative content and to raise the optical profile by way of PR and media involvement.
Mylocaloptician also has a practice locator enabling the public to find a local optician in their PCT area. Practices should check out their details currently displayed at www.mylocaloptician.co.uk and let us know if they wish to improve this entry for as little as £75 per entry. Click here for information.
We welcome additional content from the optical sector to provide further information to the public and you can send us your suggestions and copy to info@primaryhealthnet.com.
See our advertising information for retail or industry and help us raise the importance of vision care in the UK whilst improving your sales.
All excess proceeds above working costs will be ploughed back into the mylocaloptician.co.uk website.