Hundreds of practices took part in global contact lens awareness campaign
Optical practices across the UK and around the world have backed a global campaign aimed at reminding patients of the importance of safe and comfortable contact lens wear.
Organised by the British Contact Lens Association (BCLA), Love Your Lenses Week aimed to increase awareness of contact lenses as an option to manage a range of vision conditions and the associated holistic and lifestyle benefits.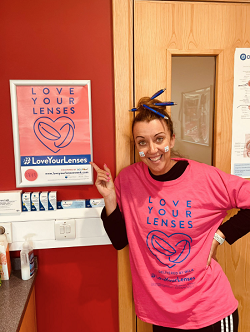 The awareness week, held between 13 and 19 June, saw a strong focus on the importance of compliance and good contact lens hygiene while reinforcing the importance of only purchasing lenses from regulated suppliers and having regular examinations from fully-qualified eye care practitioners.
Luke Stevens-Burt, chief executive of the BCLA, said: "Love Your Lenses Week is an opportunity to remind patients of the importance of happy and healthy contact lens wear and a chance to give simple, practical advice such as 'no water' messaging to ensure compliance and create good long-term habits.
"We were delighted to build on the success of last year's campaign and we have seen a 20 per cent increase in the number of practices registering to take part.
"There was a real international flavour to participants, with eye care professionals from Australia, America, Greece and Italy all taking part – reflecting the truly global nature of the BCLA."
The campaign saw a flurry of online activity, with a reach of over 250,000 across social media and hundreds of mentions on Twitter, Instagram, Facebook and LinkedIn as practices used the #LoveYourLenses hashtag, displayed campaign posters in their practice and wore official Love Your Lenses t-shirts.
More than 270 individual practices registered for the campaign, which featured CooperVision as champion sponsor, AOS Advanced Ophthalmic Systems as associate sponsors and Eyes Are The Story, Menicon, Johnson & Johnson Vision, Bausch + Lomb and The Hakim Group as supporters.